Here is your recipe and guide on how to make Orange and Almond Cake.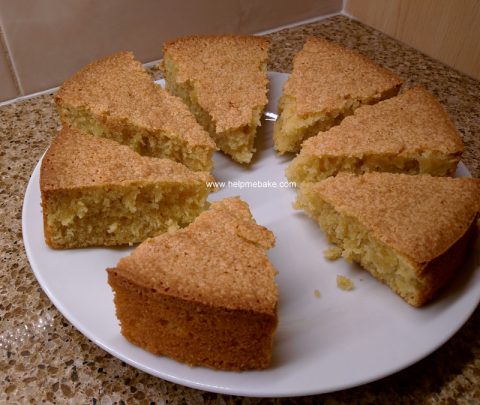 Pre heat the oven:
150°C Fan Assisted
170-180°C Conventional Oven
Gas Mark 2
302F
Ingredients:
3 Medium Eggs
200g / 7oz Caster sugar
200g / 7oz Ground Almonds
25g / 0.8oz of Plain flour
Teaspoon of Baking Powder
A Big Orange
Almond Extract
Bake Easy/Oil for greasing your tin.
Tip: If you notice that your cake is browning quite quickly in the oven then reduce the temperature by approx 10 – 20° and bake for slightly longer.
Method:-
1. Place 3 Medium Eggs and the caster sugar into a mixing bowl and whisk together.
2. Fold in the ground almonds with a spatula.
3. Sieve in the plain flour and a teaspoon of baking powder
4. Mix in the grated rind of one big orange.
5. Then add the full juice of the orange
6. Add a teaspoon of almond extract.
7. Give the mixture a quick blast with an electric whisk and the mix will resemble porridge, then pour into your greased tin.
8. Bake in the pre heated oven for approx 40-45 mins in a 7″ round tin in the centre of the oven.
To ensure the cake is fully cooked insert a skewer into the centre of the cake and ensure it comes out clean.
If cake mix is still visible on the skewer cook for a few extra minutes then re-insert the skewer and ensure it comes out clean.
9. Once baked remove from the oven and place the tin on a wire rack.
10. Leave for approx 5-10 minutes to cool then turn out onto a wire rack to cool fully.
Here is the full tutorial.







I'm here to help inspire you, teach you and extract your hidden talents. I will introduce you to the fun limitless world of baking, cake making & ...